In May 2015, Marketplace Events held its annual corporate meeting in sunny Palm Springs, California. This year's meeting was jam-packed with ideas on how to become a cross-selling superstar, marketing and sponsorship best practices, and systems to improve day to day operations. We even invited some of our valued exhibitors for a candid Q&A session on how we as a company could improve future events.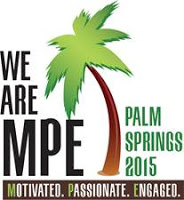 One of the highlights of our meeting was the MPE Amazing Race. A few hours of highly competitive team building as the entire company fought to complete a series of fun and quirky tasks -- like eating insects and candy. Lots and lots of candy. Scattered around the hotel (both inside and out) the race was truly on as teams did their utmost to be first at the finish line.
The entire company was also invited to conquer their fears and ride the Palm Springs Aerial Tramway, the world's largest rotating tramcar. At an elevation of 8,516 feet above sea level, after a 10 minute ride up the sheer cliffs of Chino Canyon, a lovely dinner awaited us.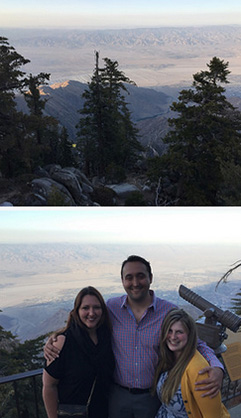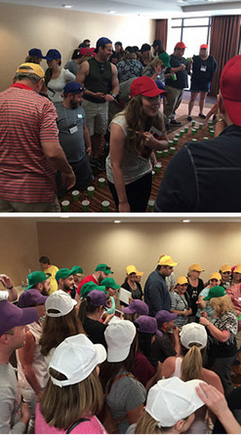 During our opening night dinner, Tom Baugh, Lisa Kropf and Mark White announced the 2015 Marketplace Events Award Winners:
Tom Baugh's "CEO Award of Appreciation"
Stacey Charkow
Marc Gary
Kevin Grace
Laura Groninger
Dorothy Maver
Cristian Moore
Brooke Parks
Over-the-Top Award
Martin Egli
Liz Harper
Sarah Girard
Cathy Berthold
Terri Higgins
Stephanie Wyrobek
Bonnie Finer
Highest Sales by an Exhibit Sales Consultant above Sales Target
Gordon Cox, Exhibit Sales Consultant
2015 Ottawa Home + Garden Show
Highest Sales by a Show Team above Sales Target
2014 Deseret News Fall Home Show
Most New Business Sold
Laura Martin, Exhibit Sales Consultant
2015 Denver Home Show
Highest Local Sponsorship Dollars Sold
Marie-Claude Blais
2015 Montreal National Home Show
Highest % of Profit Dollar-for-Dollar
2015 Oklahoma City Home + Garden Show
Highest Year-on-Year Growth in Contribution
2014 AIMExpo, Cinnamon Kernes
2015 Cleveland Home + Remodeling Expo, Rosanna Hrabnicky
Highest On-Site Renewals (3-5 day shows)
Highest On-Site Renewals (6+ day shows)
2015 Great Big Home + Garden Show
2015 Indianapolis Home Show
Highest Increase in Attendance
2015 Cleveland Home + Remodeling Expo
Rosanna Hrabnicky, Shelly Gepfert, Shalini Mitchell
Highest Exhibitor Satisfaction Rating
2015 Jacksonville Home + Patio Show
Highest Consumer Satisfaction Rating
2015 Edmonton Home + Garden Show
Congratulations to all our award winners!