Volunteer trip to Hawaii and sweepstakes results
CLEVELAND, OH, (July 25, 2017)
-- Marketplace Events congratulates Hawaii Build + Beach Sweepstakes winner Carrie Le from Falls Church, VA.
Marketplace Events launched the Hawaii Build + Beach Sweepstakes in late 2016 to provide one lucky winner a trip for two to Hawaii – to take part in a Blitz Build for Habitat for Humanity West Hawaii and help build 10 homes alongside future Habitat homeowners. Carrie Le entered the sweepstakes by donating to Habitat for Humanity when purchasing tickets for the Capital Remodel + Garden Show in February 2017. Ms. Le and guest will be flown to Kona, Hawaii. In addition to building homes, Ms. Le will attend unique cultural demonstrations and enjoy local music and entertainment during the 10-day experience.
"This was my first time attending the home show and I was more than happy to provide a donation to Habitat for Humanity as it's an organization I've always admired. It was a total shock to learn that we won this trip to an amazing location AND get the chance to build homes and give back to a great cause at the same time! We're so excited to have this experience," said Le.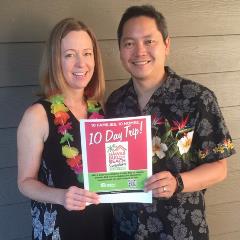 More than $25,000 was raised for Habitat for Humanity through the Sweepstakes that ran until April 11, 2017 with 1,057 donors from United States and Canadian Home Shows and many mail-in entries.
"We are honored and excited to be the Habitat affiliate to partner with Marketplace Events on this sweepstakes. This special partnership not only creates awareness of what Habitat for Humanity does, but also makes it easier for us to bring affordable housing to more families in our community," said Habitat for Humanity West Hawaii Executive Director, Patrick Hurney.
"We at Marketplace Events are excited for Carrie Le to have this amazing opportunity to build with Habitat for Humanity West Hawaii. We were proud to help raise funds through this Sweepstakes and also via our workplace giving campaign this past May that raised nearly $50,000 to help create a world where everyone has a home of which they can be proud," said Tom Baugh, CEO, Marketplace Events.
Marketplace Events is a recognized partner of Habitat for Humanity, assisting in their mission to create decent and affordable places to live. Marketplace Events has committed to provide corporate financial support, product donations, and contributions from attendees, advocacy and awareness building and on-site activation across 58 annual events in 25 markets.
Watch for more details about the 2018 sweepstakes benefitting Habitat later this year! And, don't miss the fall Capital Home Show September 22-24 at the
Dulles Expo Center
featuring
HGTV's Master of Flip
Kortney and Dave Wilson and
This Old House
host Kevin O'Connor. Buy tickets online and save $3 at
CapitalHomeShow.com
.
About Marketplace Events
Marketplace Events creates vibrant expositions connecting enthusiasts with experts, products and services in dynamic face-to-face environments. The company produces 38 consumer home shows in the US, 14 in Canada, and six holiday shows. The 58 combined events, in 26 markets, attract 17,250 exhibitors, 1.9 million attendees and another 2 million unique web visitors annually. From 14 offices, the 150-person staff produces some of the most successful and longest-running shows in North America, including market-leading shows in Minneapolis, Philadelphia, Washington, D.C., Vancouver, Calgary and Montreal—some of which have thrived in their markets for more than 75 years. In 2016 the company launched Marketing Solutions, a division that provides digital marketing, custom printing, branded content and sales support to their expanding customer base.
About Habitat for Humanity
Driven by the vision that everyone needs a decent place to live, Habitat for Humanity began in 1976 as a grassroots effort on a community farm in southern Georgia. The Christian housing organization has since grown to become a leading global nonprofit working in more than 1,300 communities throughout the U.S. and in more than 70 countries. Families and individuals in need of a hand up partner with Habitat for Humanity to build or improve a place they can call home. Habitat homeowners help build their own homes alongside volunteers and pay an affordable mortgage. Through financial support, volunteering or adding a voice to support affordable housing, everyone can help families achieve the strength, stability and self-reliance they need to build better lives for themselves. Through shelter, we empower. To learn more, visit
habitat.org
.


Media Contact
Jill Collins
jill@jillcollinspr.com