Taking part in an experiential event can give you an edge over the competition. However, just signing the contract and showing up at the event isn't always enough to get your company noticed. Also, great attendance doesn't always equal a successful show – there are times when smaller numbers of highly qualified attendees can equate to more return on your investment. Ten serious buyers are more valuable than 1000 tire-kickers.
The following 10 tips are ways to ensure you are successful at your next event.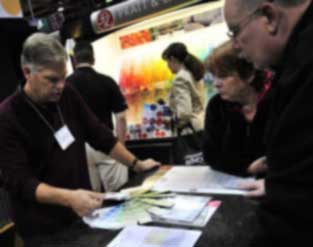 1.
Don't be a wallflower.
According to Google a wallflower is a person who has no one to dance with or who feels shy, awkward, or excluded at a party. The show is your party! Get up and socialize with every potential customer who passes by your booth. This is the most active way to ensure show attendees hear about your products and services and will keep you top of mind when they are ready to purchase. SMILE, be happy, talk to everyone and be in your booth during the entire time the show is open.
2. Know your target market.
We work to bring many people to our events within the home and garden demographic. Qualify potential customers who stop at your booth by asking a few simple questions. For example, if you are a renovation company it may be handy to know if they have just purchased a new home.
3. Have a goal.
It might be a sales target you want to meet by the end of each day, or a promotion strategy you want to achieve. Make sure all staff working in your booth are trained and aware of your goals, this way everyone is working towards the same objective.
4. Plan & set your budget early.
Start planning your participation as soon as you sign up rather than a month in advance. Align your budget with your goals and there will be no unwelcome surprises when it comes to costs for booth rental, travel, staffing, hotels, and marketing materials.
5. Stay in touch with your sales representative.
Working on ideas for the show? Why not run them buy your exhibit sales representative, they may have worked on similar concepts in the past and are always happy to share their knowledge. Plus, if you are working on something amazing we love sharing fresh ideas with the media throughout our show promotion. If you have a story, let us help tell it.
6. Read the exhibitor kit & submit the required forms.
Yes, this one is a necessary evil. Every event will have an exhibitor kit containing all the required documents needed to participate. Mandatory forms such as insurance keep you safe; and submitting your order forms for electrical, lighting, carpet, and signage early can ensure you have a well organized, stress free event. It also helps to save money as orders placed on site cost more.
7. Promote yourself before the event.
Marketplace Events is partnered with media and PR agencies in all local markets. Yet it's not enough to rely solely on our promotional efforts. Letting your own customers and prospects know you will be taking part in the event can help to drive more traffic to your booth. Remember to mention your participation in any of your regular newsletters, websites, and social media. Ask your sales rep to send you a show graphic for your website.
8. Put your best foot forward.
Great booth design does not go unnoticed. On a crowded show floor you have a matter of seconds to capture someone's attention. If your booth is all set and ready to go with great graphics your first impression is bound to be a good one.
9. Follow up with your leads.
If you are collecting email address, business cards, or any other form of contact information have a plan to reach out to those people after the event. A simple one-time email to introduce yourself again and thank them for stopping by could lead to an amazing sale. Just make sure you also gather optins to your email list if you are going to send out an email campaign, we don't want anyone to get in trouble with CAN-SPAM or CASL. ;o)
10. Have a post show meeting.
After each event review your strategies and goals and determine how you can improve next time. Having a conversation about what took place on the show floor can lead to improvements; be it to your booth design, handouts, or the location on the floor, all should be reviewed to help you exceed your expectations in the future.
Following these tips will definitely help your participation in any future event and set you apart from the competition. Remember, attendees rely on our shows for ideas, information, and inspiration when it comes to what's hot, new and now. Our exhibitors are our experts in the field and with the right presentation show attendees will be one step closer to making a purchase.